Two momentous events occurred in my life in the summer of 2018: I graduated from high school, and Bo Burnham's directorial debut, Eighth Grade, came out. As a long-time supporter of Burnham's work, I leapt at the opportunity to see the film the first chance I got, which happened to be at a screening in Chicago about a week before the movie's wide release (which was one year ago this month). I expected to find it relatable as an ex-awkward pre-teen. However, I found that the film resonated with me even more than I had imagined it would.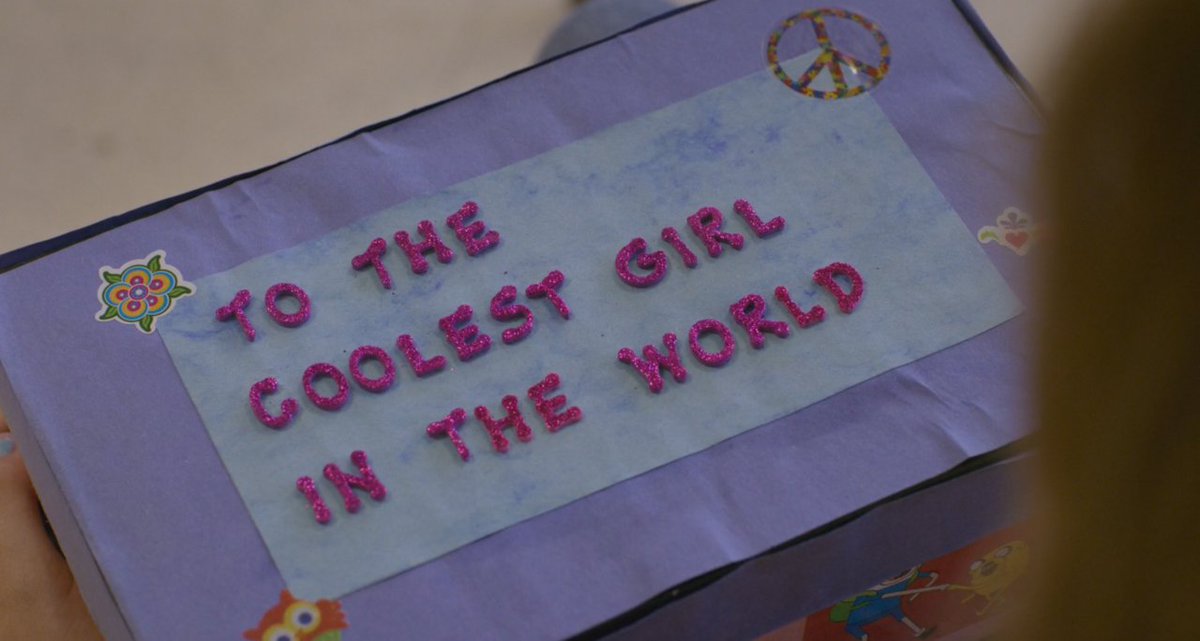 The emotional crux of Eighth Grade, which follows Kayla Day (Elsie Fisher) through her last week of middle school, rests in the contents of a decorated shoe-box that doubles as a time capsule. In sixth grade, Kayla and her peers were asked to leave some souvenirs and messages in a box to open at the end of eighth grade. Kayla's time capsule, labeled "To the coolest girl in the world," holds mementos of her past: a softball, a playbill, a copy of Harry Potter. Her gaze, however, lingers on a different, seemingly innocuous object: a SpongeBob Squarepants flash drive.
Nearly the entire film passes before we get to find out the contents of the flash drive. After building up her courage, Kayla takes a deep breath, inserts the USB into her laptop, and presses play. The camera remains on her face as she and the viewer hear the bubbly voice of sixth grade Kayla. Current Kayla's expression betrays embarrassment, discomfort, and above all, a deep disappointment. Her past self excitedly ruminates all the possibilities her future holds, from "middle school weekends" to having a boyfriend. To Kayla, it's like watching a video of broken dreams, of unfulfilled promises.
I didn't make a video for myself, but I did have a letter. At the end of my eighth grade year, all the students in my class wrote notes to ourselves to be sent out to our home addresses after we graduated from high school. Over the years, I mostly forgot about the letter. I wasn't thinking about it at all when it showed up in my mailbox, about a week after my graduation.
Reading that letter was an excruciating experience for a variety of reasons, because, as most people can attest to, middle schoolers can say some pretty dumb things. But what made reading my letter the hardest was seeing all the things I hadn't done that I had wanted to. I told myself, in that note, that I couldn't wait to try out for high school show choir. I hoped that I was still a voracious reader, and begged my future self to assure me that I got into the Ivy League university of my dreams. But I didn't try out for show choir; I stayed in orchestra instead. I was busy in high school and I didn't get to read as much as I used to, and while I applied to some Ivies, I didn't get into any of them. I had let myself down.
I tried to put the thoughts out of my mind, but it lingered in my head for weeks afterward that my eighth grade self would be so, so disappointed in me. She had had so many hopes for me and I hadn't come through for her on any of them. I was a failure. Watching Kayla go through those same feelings on screen was cathartic, and I broke down crying in the theater, sad for her but sad for myself too.
I would have been content with just that moment of connection, with the sense of recognition I felt in that scene, but then something even more miraculous happens. Kayla makes another time capsule. The film closes with the new video she has made for herself, to be watched after she graduates from high school. In it, she tells herself all that she hopes she accomplishes, but time and time again reminds herself that it's okay if things don't turn out that way. That reminder was so infinitely important to me. As Kayla says, "You never know what's going to happen next, and that's what makes things exciting and scary. And fun." Life doesn't always go as planned, and that's fine. You shouldn't be ashamed of the person you've become, you should be proud.
Since seeing Eighth Grade, I've written a new letter to my future self, to be opened once I graduate from college. I told myself what's been happening and what my dreams are as of right now, but this time I made sure to add that I won't be sad if those dreams have changed and my life is different in the future. And above all, I made sure to let myself know: I can't wait to be her.