Tim Burton has always had an unstoppable sympathy for outsiders since the very beginning. He has shined a bright spotlight on people from unhinged goofball Pee-Wee Herman to the misunderstood low-budget filmmaker Ed Wood, and even brought the heartbreaking fairly tale of Edward Scissorhands to life.
Burton's affinity for the lesser appreciated has always been infectious and magical. His interests reflect the titles of his pictures, given that the majority of his protagonists share a name that tells you what the movie is about before it has even begun. This intertwined with his Gothic and ghoulish sensibilities as seen with his re-imagining on Sleepy Hollow and Sweeney Todd has been Burton standard bread and butter for his thirty-year long career.
He is often heralded as a visionary, a sacred imagination that is distinctly his own, joining the likes of James Cameron or M. Night Shyamalan. We are no longer going to see a fresh coat of paint on Alice in Wonderland, yet we want to see what Burton thinks about the classic world. He has seemingly run low on things to say and critique, which forces him to adapt and renew original properties. Even when he does have an original creation, nobody shows up to show their love, nor do critics sing the praises.
He needs a hit and a win, and despite what the box office may say, he has yet to receive acclaim as of late in the decade with the catalog consisting of such outputs like Alice in Wonderland, Dark Shadows, Frankenweenie, Big Eyes and Miss Peregrine's Home for Peculiar Children. Burton can't help but compare his work, his cinematic legacy proves why he has endured, even with his unfortunate failures like Planet of the Apes,and this seems to be a curse given his effort into what he has to live up as the man for was responsible for birthing Batman in cinemas for the very first time.
Disney reinterpreting their own, perfectly competent animation work of adaptation foreign literature hasn't been the most popular of recent decisions. A form of banking of an already established and adored entity could have fans returning to an updated story based solely off iconography. Personally, I see them as a recycle for a new generation and filmmakers like Kenneth Branagh (Cinderella) and Jon Favreau (The Jungle Book, The Lion King) getting to play around with a sleek new canvas to enhance a world through computer-generated imagery that couldn't be as achievable during the animated pictures original development.
Spectacle changes, and what may have been visually attractive than in the 1950s has yet to be seen what spectacle looks like today. Regardless of how timeless or beloved the original may be, Burton too has even taken a trip to this lucrative as well with his rendition of Alice in Wonderland in 2010, a film in the billion-dollar grossing club, yet it has evaporated in the conversation when it comes to both Burton's catalog and Disney's foray into live-action remakes.
These re-imaginings need something more than just profitability: significant purpose. Clarity and sentimentality that maybe couldn't be brought to life with hand-drawn animation. Tim Burton was a dead-on choice for breathing new life into Dumbo because of the way it culminates with his career as well as a revitalization of a story nobody has much nostalgic connection to. His signature sentimentality fused with a keen eye for visual flourishes call for a rather extravagant cinematic experience. In 1941, Dumbo was just the fourth film Disney had ever released; it is one that would beg for someone to breath new life into the timeless tale.
Holt Farrier (Colin Farrell) is just arriving back from the war, returning to his place of work and greeting his now motherless children Millie (Nico Parker) and Joe (Finley Hobbins). He is helping out an extravagant, outlandish circus run by Max Medici (Danny DeVito) who is equally concerned about putting on quality entertainment as he is keeping the circus performers bound to form a makeshift family. Once word spreads about Dumbo the flying elephant, everyone flocks to see the newest attraction, including one V. A. Vandemere (Michael Keaton, doing his best to conjure up whatever antics and impediments are left of his unforgettable Beetlejuice performance) and his French, acrobatic partner Colette Marchant (Eva Green). Vandemere sees nothing worth liking about the floppy-eared elephant except a profit, unlike Holt and his kids who feel the opposite and when Vandemere makes a deal with Medici to become business partners, he sees this as an opportunity to steal Dumbo away from any competitors.
There are many moments of creative inspiration and legitimate giddy fun (it feels like the most energized Burton has been in years). Instances like Medici's monkey companion always running a muck, the good-hearted circus acts who bring in a nice bit of world building and the signature, larger than life production design which hearkens back to Burton's Gothic and fairy tale-like sensibilities.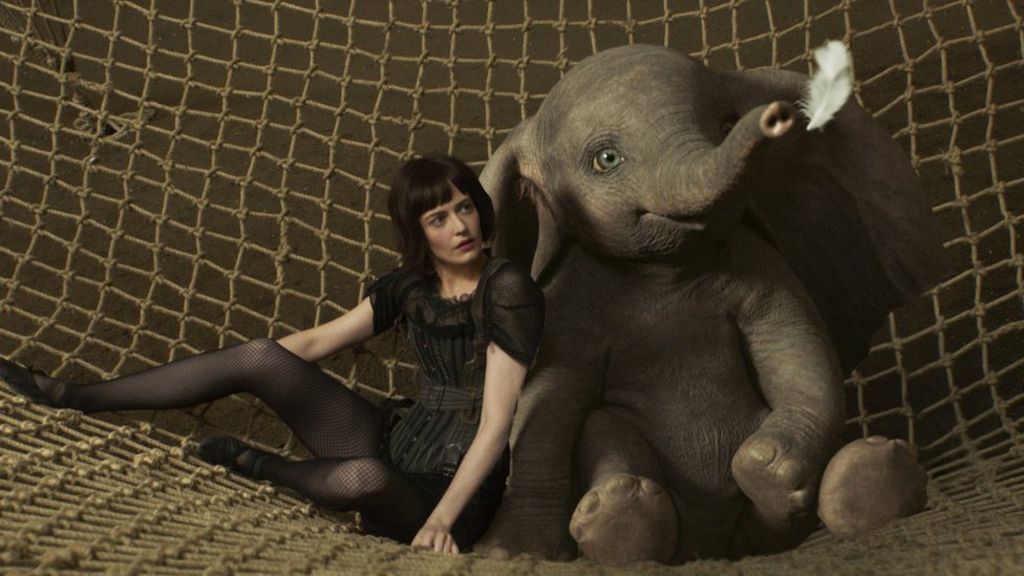 Yet even with Colin Farrell's charismatic southern accent or the warm, fuzzy sensations you'd receive whenever Dumbo would take flight, it felt as though maybe Burton puts restraints on his storytelling endeavor. You can almost feel when he is getting prepared to put on something truly spectacular, then it's shut down for reasons unsatisfactory to what we could have seen. It is clear as day that he loves his story and the timeless tale of maternity at its core but he doesn't go anywhere else and run with it like I would expect from someone who's capable of finding care. I had wished he had embraced the lunacy of the early industrial-like circus even more than he did.
Give me the outrageous, heightened world of Mars Attacks to bring the circus to life with a bit more of a blissful interior rather than a chaotic one. There is the now infamous scene in the original 1941 Dumbo in which we see him hallucinating a series of surreal and kaleidoscopic imagery, the scene feels out-of-place and without purpose but has reminded an integral part of Disney's early experimentation. I found myself waiting for Burton to really go wild with his experimentation, sure there is a flirtation in a particularly engaging event sequence, but it left me feeling uninterested with the execution.
This manages to not overtake the sheer joy from seeing the impossible become possible. A flying elephant seems so odd that it shouldn't work in the first place but the movie clears the incredibly low bar set by its predecessor. Dumbo isn't the focus nor should he be, it is the people around him that make for the captivation. Burton rarely gets lost in the gloss of his high budgeted, visual capabilities and instead uses light and shadow to create subtle images that never feel overwhelming, unlike having too much fun with the technical prowess he has at his disposal. The movie doesn't overpower itself but simultaneously doesn't capitalize on many moments of unheralded magic.